About us
About the players
Marcus Hedenfalk is a Swedish percussionist that received his education at Ingesunds folkögskola in Sweden and at the Royal Northern College of Music in Manchester, England. He is a fulltime percussion teacher at the music school in Lidköping Sweden. Marcus percussion freelance work include solo performances and chamber groups.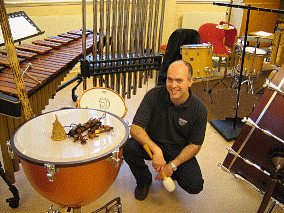 Marcus runs the pmlg website and plays all percussion on all of the sound samples.
If other instruments are played on a sample the names of the musicians will be included in the more information section on that piece.
What gear is available
I have daily access to drum kit, timpani, vibraphone, xylophone, marimba, glockenspiel, chimes, bass drums, snaredrums, cymbals, tam-tams, Latin percussion and a reasonable stock of accessories (cowbells, woodblocks, tambourines etc.) I try to improve my instrument stock regularly but percussion is as you might know endless. If I do not have an instrument, I will try to borrow it from percussion colleagues or hire it from percussion instrument dealers.
©Marcus Hedenfalk 2005